36 original Gaudí pieces were deposited in the Museu del Disseny of Barcelona to be permanently exhibited. They come from the Gaudí Chair of the Polytechnic University of Catalonia: doors, furniture, ceramics, stained glass and wrought iron elements of Casa Milà, Casa Batlló, Park Güell and other buildings by the architect that make up a valuable collection.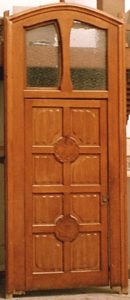 These pieces were collected by Dr. Joan Bassegoda Nonell when he was president of Amigos de Gaudí in the 1960s and came from reforms, such as the doors of the Casa Milà and Casa Batlló, incredibly thrown into the trash during a restoration, and also of demolitions, such as the fence of  La Miranda Tower in Llinars del Vallès.
Others are the product of surprising findings, such as the prefabricated pieces covered with trencadís that were found in the cavern behind the "Greek Theater" of Park Güell, apparently leftover or discarded elements. Some sections of he remarkable trichrome stained glass windows of the Cathedral of Mallorca complete this collection.
They were exposed for 40 years and accessible to all who wanted to see them at Finca Güell, at a time when the Gaudí Chair had its headquarters there under the direction and conservation of Dr. Bassegoda, until 2008. Together with the invaluable documentary and photographic archive and the library with 15,000 volumes constituted the main focus of interest that attracted innumerable scholars and researchers from around the world to that magnificent building guarded by the superb iron dragon in its portal.                                                                                                                                                                      
These objects, together with original plans and drawings from the files of the Chair, went since the 1960s to various countries to be part of about 50 exhibitions organized by the Gaudí Chair or lended to other exhibitions. The 1984 one that toured the world stands out. Our work at Finca Güell allowed us to participate in 15 of them and be the curators of those at Sao Paulo, Xalapa and Mexico City.
The pieces today deposited at the Museu del Disseny exhibited at the Seoul exposition in 1997
We celebrate that after many years of being out of the exhibition this valuable group representative of Gaudí's quality as a designer finds today in the Museu del Disseny an appropriate space to be enjoyed by the increasingly numerous admirers of the great architect's work.