Born in 1852 in Reus, in the Province of Tarragona, Antonio Gaudí studied in Barcelona, where he was one of the first students to graduate from the newly created School of Architecture. He rounded out his studies by working as a draughtsman and in craft workshops. Particularly important at this stage was his collaboration with Joan Martorell Montells, which went on after he had qualified as an architect in 1878. This collaboration brought Gaudí into relationship with Eusebio Güell, a rich industrialist who cut a prominent figure in Barcelona society. His trust in Gaudí and their shared ideas helped to engender many of the imperishable works we admire today. It was also at the start of his career that he began working on what would then become an ongoing part of his life's work: the Temple of the Holy Family in Barcelona.
Gaudi's years of professional work as an architect enroll in the decades when the so-called "Catalan Modernism,"  the local expression of a powerful renewing current in the art that circulated in Europe towards the end of the nineteenth century, manifested. This movement that challenged the traditional rules of composition and explored the possibilities offered by new materials expressed itself with the force of its free and pioneering spirit. In the field of Gaudí's work it was joined by a local review of Gothic architecture, under the influence of the recovery of traditional cultural values.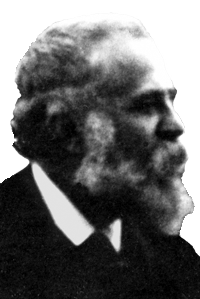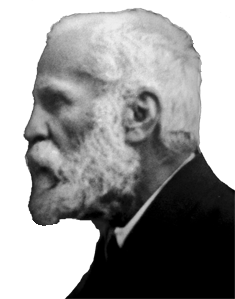 So, decorative details inspired by that period of architecture coexisted with asymmetrical compositions, the windings, sculptural volumes, and later with architecture combining them with planes and straight lines in the successive moments that marked this current that began around the 1870's and lasted until well into the twentieth century. His work lived with all phases of modernism, being influenced by each, but well above the mere decorative vocation that was one of the main features of this artistic movement.
Gaudí's work during his almost half century long working life took in mainly residential and religious buildings. Noteworthy among the former are his works for Güell and his houses for Milà, Batlló, Calvet and Vicens. His work of a religious nature began in his earliest years, with diverse projects for altars and reredos carried on. It matured with buildings such as the Teresian School in Barcelona or the Astorga Bishop Palace and culminated in the unfinished church of Colonia Güell, all this combined with his ongoing work on the Sagrada Familia.
Reus  and Barcelona at the end of 19th century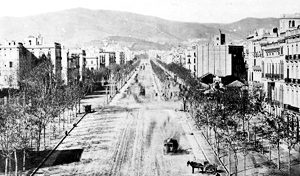 Mention must also be made of his architectural and landscaping schemes like Park Güell, Finca Güell and Can Artigas garden, and also his restoration work on buildings such as the Catedral de Palma de Mallorca. He also found time for some industrial work, such as the Cooperativa Mataronesa, tha Garraf  wineriws and the Colonia Güell. Design occupies a prominent place: furniture and decoration. In his line of inspiration in nature he did either imitation of natural models and furniture ergonomically developed.
Most of his work is to be found in and around Barcelona but there are also important buildings dotted around other Spanish cities, like León, Astorga, Comillas and Palma de Mallorca. There were also some projects outside Spain that did not come to fruition, such as a hotel for New York or the monastery in Tanger. Gaudí spent the final years of his life studying the complex formal and structural solutions for the Temple of the Sagrada Familia. which he left in drawings, photographs and models, the natural way to express his views.